Star Wars Squadrons
Gameplay Overview
Join the galaxy's finest as you journey through the single-player campaign set after the events of Return of the Jedi and seen from alternating perspectives of two factions. The New Republic fights for freedom. The Empire demands order.
Take control of starfighters from both the New Republic and Imperial fleets such as the X-wing and TIE fighter. Customize loadouts and cosmetics, divert power between weapons, shields and engines while immersing yourself in the cockpit. You'll also have the option to play the entirety of the game in virtual reality on PSVR!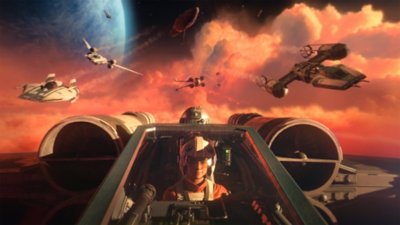 Plan every skirmish with your squadron in the briefing room before taking off to the evolving battlefields across the galaxy. Pilots will triumph as a team in known and never-before-seen locations, including the gas giant of Yavin Prime and the shattered moon of Galitan.