Elden Ring
Gameplay Description
In the Lands Between ruled by Queen Marika the Eternal, the Elden Ring, the source of the Erdtree, has been shattered.
Marika's offspring, demigods all, claimed the shards of the Elden Ring known as the Great Runes, and the mad taint of their newfound strength triggered a war: The Shattering. A war that meant abandonment by the Greater Will.
And now the guidance of grace will be brought to the Tarnished who were spurned by the grace of gold and exiled from the Lands Between. Ye dead who yet live, your grace long lost, follow the path to the Lands Between beyond the foggy sea to stand before the Elden Ring. And become the Elden Lord.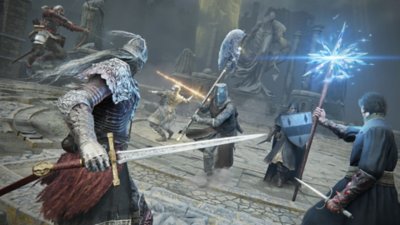 Unravel the mysteries of the Elden Ring's power. Encounter adversaries with profound backgrounds, characters with their own unique motivations for helping or hindering your progress and fearsome creatures.
World exploration in the Lands Between; Traverse the breathtaking world on foot or on horseback, alone or online with other players. Fully immerse yourself in the grassy plains, swamps, mountains, castles and other sites of grandeur on a scale never seen before in a FromSoftware title
Genre-defining gameplay; Create your character and define your playstyle by experimenting with a wide variety of weapons, magical abilities and skills found throughout the world. You can also take the fight to the Colosseum's arenas for multiple PvP modes. Many options are at your disposal as you decide how to approach exploration and combat.