Call of Duty Modern Warfare 2
The follow-up to 2019's box office sensation Modern Warfare is called Call of Duty: Modern Warfare 2. Witness what makes Task Force 141 (TF141) the famed unit it is today with the return of the iconic, team leader Captain John Price, the fearless John "Soap" MacTavish, the seasoned Sergeant Kyle "Gaz" Garrick, and the lone wolf himself, fan favorite Simon "Ghost" Riley.
Utilize cutting-edge machinery, vehicles, and weapons to defeat foes. Get ready and head offshore to release much-needed comrades in a black site concealed within the mountains, break a well guarded enemy camp, infiltrate along the canals, and siege foes underwater.
Infinity Ward offers pulse-pounding, cutting-edge next-gen gameplay. Fight alongside pals in the most advanced Call of Duty game yet, featuring breathtakingly realistic sound, lighting, and graphics.
A number of gameplay and visual advancements in Modern Warfare 2 take the series to new heights. These include:
an upgraded, sophisticated AI system. improved photogrammetry and rendering technologies. a brand-new Gunsmith system that offers greater customizability than before. Groundbreaking technologies to create the groundwork for gameplay of the future. Remain Frosty.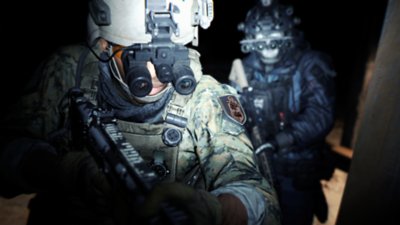 Features
Campaign
Join 
TF141 
on 
missions 
that 
range 
from 
highly 
classified 
to 
small-scale, 
high-stakes 
infiltration 
tactical 
ops 
over 
a 
single-player 
campaign 
that 
takes 
you 
all 
over 
the 
world.
Multiplayer
With brand-new gun handling, a new Gunsmith, and a host of other gameplay and graphics advancements, Infinity Ward provides cutting-edge gameplay that takes the franchise to new heights.
Post-launch content
After 
launch, 
there 
will 
be 
a 
ton 
of 
free 
stuff 
to 
look 
forward 
to, 
including 
maps, 
modes, 
seasonal 
events, 
community 
celebrations, 
and 
an 
ever-evolving 
gameplay 
experience.
Special Ops
Play 
a 
tactical 
co-op 
game 
mode 
that 
has 
evolved 
from 
Special 
Ops.