Astral Chain – Nintendo Switch
Nintendo Switch Astral Chain an action game from PlatinumGames
Buy Nintendo Switch Astral Chain & meet the few survivors of a massive global disaster gather together in a futuristic megacity. Now it's your job to protect them against otherworldly invaders–but you're not alone as a member of a special police task force equipped with sentient armaments called Legions. In this brand-new action game from PlatinumGames, control the protagonist and a Legion simultaneously to chain stylish combos. Change Legions on the fly to vary your style and unleash a variety of abilities. The last remnants of humanity depend on you, and to save the world, you must investigate its dark side. Explore a near-future cyberpunk metropolis, solving crimes and seeing how the last remnants of humanity struggle to survive. As you save the world from extradimensional invaders called chimeras, you'll also interact with citizens, question suspects, and team up with members of your task force to solve cases. Utilizing the abilities of Legions will be necessary in these investigations; you may need to track the scent of a missing person or subdue aggressive criminals! Beyond this last land left to humanity lies the Astral Plane, the alternate dimension from which the chimeras invade. As you explore its labyrinthine corridors, you must use your Legions to solve environmental puzzles and expose the secrets of this strange realm.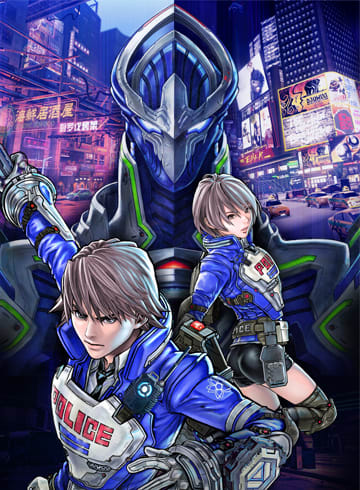 Nintendo Switch Astral Chain exclusively for the Nintendo Switch™ system
As you play Nintendo Switch Astral Chain in 2078, humanity is on the brink of extinction. The population has retreated to the Ark, a bustling megacity atop a man-made island. But the Ark is no longer safe. Hostile, otherworldly creatures are now invading. It's your job to stop them…before time runs out.
Work together with the Legion – the ultimate living weapon!
Humanity's last hope against the extradimensional invasion is the Legion – a living weapon, tethered to a human controller. You and your Legion will work together to fight off alien monsters – and crack police cases, while you're at it. Synergetic Action is all in a day's work at Neuron!
About Nintendo Switch Astral Chain
The Ark: A massive, prosperous, multicultural city. But disaster strikes when mysterious dimensional gates appear, bringing dangerous alien creatures to the Ark to attack the people and corrupt the land. The Ark police form a special task force, known as Neuron, to face the alien threat head-on.
Humanity's last chance against invasion is a special living weapon called the Legion. As a rookie Neuron officer, you and your Legion will work together to solve cases and save humankind.
ASTRAL CHAIN gives you full control over two characters at once for thrilling Synergetic Action, courtesy of PlatinumGames. Switch between several Legion types and skills to save the world your way.
ASTRAL CHAIN features character designs by the acclaimed mangaka Masakazu Katsura (ZETMAN, Video Girl Ai), and marks the directorial debut of PlatinumGames' Takahisa Taura (designer of NieR:Automata). Hideki Kamiya, director of Bayonetta and writer/supervisor of Bayonetta 2, provides supervision.
STORY
Astral Chain is set in a near-future metropolis called the Ark. When this prosperous city finds itself under attack by creatures from beyond our dimension, it's up to the special police task force Neuron to save the day – before the end of the world as we know it.
Nintendo Switch Astral Chain Summary Features
Players: up to 2 players
Genre: Action
Publisher: Nintendo
Developer: PlatinumGames
Game file size: 9.8 GB
Supported Languages: English
Supported Play Modes:TV mode, Tabletop mode & Handheld mode
Gameplay
The player character and their Legion in combat, utilizing a "Chain Counter" to restrain a Chimera.
Astral Chain is an action-adventure game where the player assumes the role of a detective from the "Neuron" special police task force, who are tasked with solving cases and investigating incidents that take place in "The Ark", the game's main world. Exploring the world, questioning non-playable characters and examining evidence yields clues and logic puzzles that become "leads" which further the investigation process. During the course of the game, the player will access the "Astral Plane"—an interdimensional area where they must traverse hazardous terrain, solve puzzles, and battle enemies, similar to that of traditional video game dungeons.
Neuron officers are able to summon a tethered familiar known as a "Legion", bound by a chain that is the game's namesake. Legions come in various different forms sporting different abilities that are used both for puzzle-solving and combat. These include: a sword-based Legion with swift blade attacks that can be used to sever circuitry and interrupt enemy attacks, an archer Legion that can target weak points and distant switches, a Legion with powerful punches that can move large objects, an axe-based Legion which generates a shield and can destroy breakable objects and enemy shields, and a K9 Legion that can track scents, unearth hidden objects, and also be ridden for added mobility and evasiveness. The player begins the game with the Sword Legion, capturing the other four over the course of the game. Legions can be swapped at any time during battle, and can also be upgraded via experience points and unlockable skills. On top of the player's own health, Legions have their own individual health meter that gradually depletes while they are summoned, and they are also susceptible to enemy attacks, which depletes higher amounts of their health. Their health regenerates automatically when they're not active. If the entirety of a Legion's health is depleted, the player becomes unable to utilize it until it has restored all of its health.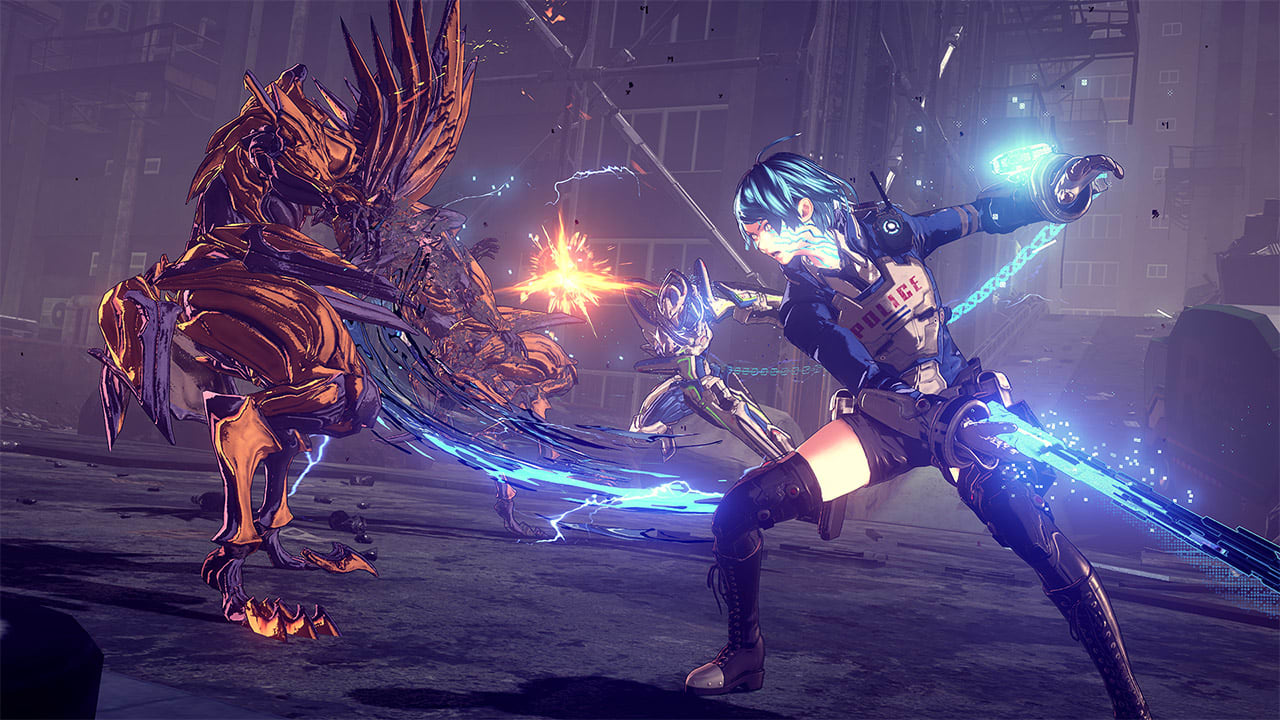 Combat takes place in real-time, both melee and ranged weapons are used to fight enemies, predominantly the malevolent race of "Chimeras". The player can summon the Legion during combat in order to have them automatically fight with the player to create combo attacks. The Legion can be manually directed with the right analog stick, allowing the player to position the Legion for more specific maneuvers. Each Legion also has a unique "Legion Action" that allows the player to take direct control over a Legion's signature ability, such as manually aiming and firing projectiles with the Archer Legion, or using the Arm Legion as protective armor that can hover over hazardous terrain and attack with a flurry of punches. Additional skills include being able to perform powerful health-restorative finishing moves, unchaining a Legion to summon multiple at once, using the chain that connects the player to the Legion in order to bind enemies—referred to as a "Chain Bind"—and also using the chain as a tripwire on enemies that attempt charging into the player—referred to as a "Chain Counter". The player is also able to utilize the chain in order to zip line out of danger through enemy crowds, as well as crossing gaps and bottomless pits between buildings and platforms.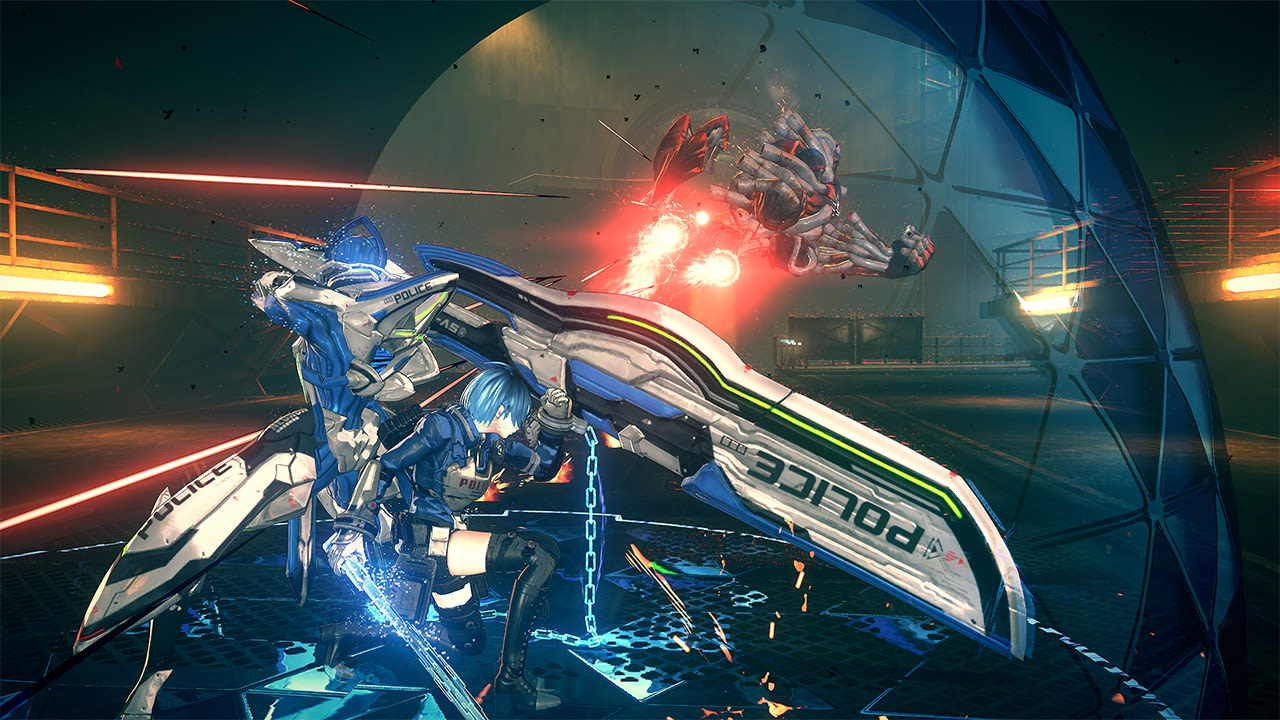 Completing combos, interrupting enemy attacks, restraining enemies, dodging, and deploying a Legion at the correct moment will offer the player a chance to perform a sync attack, requiring the player to press the left trigger at the right instant, similar to a quick time event. Sync attacks can extend combos, trigger special attacks, bind enemies, and help the player recover from a fall. After performing a large number of sync attacks, the player may fuse with their Legion for a short while to recover health and deal large amounts of damage.
The game features four difficulty settings, allowing the player to switch difficulty between each chapter. The highest difficulty is only unlocked for a corresponding chapter once the player has beaten it once. When played on the two highest difficulties, the game ranks the player based on their individual case performance, giving the player an overall ranking at the end of each chapter. On the two lowest difficulties, the player will not be ranked.
Early in the game players unlock the IRIS tool, a heads up display from which they can inspect the environment and search for clues, as well as save their progress, manage the inventory, customize in-game menus, view the level map, and manage orders (benchmarks and photo challenges that reward the player with items, crafting materials, XP, money, and photo filters). Previously completed chapters can be accessed and replayed via the player's desk at the Neuron Headquarters at the beginning of each new chapter. The player can also return to this area to maintain and customize their Legions, customize their character, and interact with other Neuron officers. Consumable items can also be obtained from vendors that can later be used for crafting, health recovery, or combat.